3′ x 12′ 5-Hole Pro Backyard or Indoor Putting Green – Made from the World's Best Turf
Pro Putting Green with 12 Foot Long Practice Shots
For a little more cost than our 3 x 9 foot green you can have a 12 foot green that lets you practice longer putts, and this green has 5 holes not 3. This green is great in a recreation room or office but also outdoors on a patio or even installed permanently in your landscape.
Putting on our professional green is as real as playing on a country club green because it's made from our famous Master Putting Turf so your ball rolls at the same 10-11 stimp speed found on a real grass green. You can create contours and breaks under the green using sand in 12 inch plastic freezer bags.
When you aren't practicing, you can confidently roll this green up (turf side out) and store it, knowing that when you roll it out later on, it will lay and play perfectly flat thanks to our greens' heavy rubber backing. Cheaper brands when taken out of storage can have folds, curls and bumps that make them unplayable.
Because it rolls up, you can travel with it, thanks to our optional travel case sold below.
But the best feature of a StarPro Greens putting green when used indoors is our patented StarBall putting cup, which eliminates the need for a deep hole so our greens can lay flat without the need for cumbersome, unrealistic platforms, ramps or thick foam padding.
SIZE 3 x 12 feet - kidney shape.
INSTALL indoors, patio or outdoors.
5 GOLF CUPS INCLUDED - choose StarBall (indoors) or in-ground (outdoors).
TURF - StarPro's "Best In The World" Master Putting Turf.
PLAYS LIKE A REAL GOLF GREEN with 10-11 stimp speed in all directions.
CONTOURS - can create breaks outdoors or indoors.
PUTTS - long challenging putting between 5 holes.
COLOR - spring green and forest green, looks and plays great year round.
TURF HEIGHT - .56 inch.
DENSITY - 44 ounce blade weight, 95 ounce gross weight.
BACKING - Outstanding 4-layer backing creates realistic putts even over contours and gradients.
See Why
StarPro Greens
Are Better
Here's a video comparing our putting greens to other brands and types.
When you see each brand played on it's obvious you'll choose StarPro Green.
Your putting green comes with 5 included golf cups, so you practice long and challenging hole to hole shots.
Play the following video to learn how to putt StarPro's 9-hole tournament play pattern on your green.
In Ground Golf Cups
For outdoor lawn installations, choose our in-ground regulation size golf cups.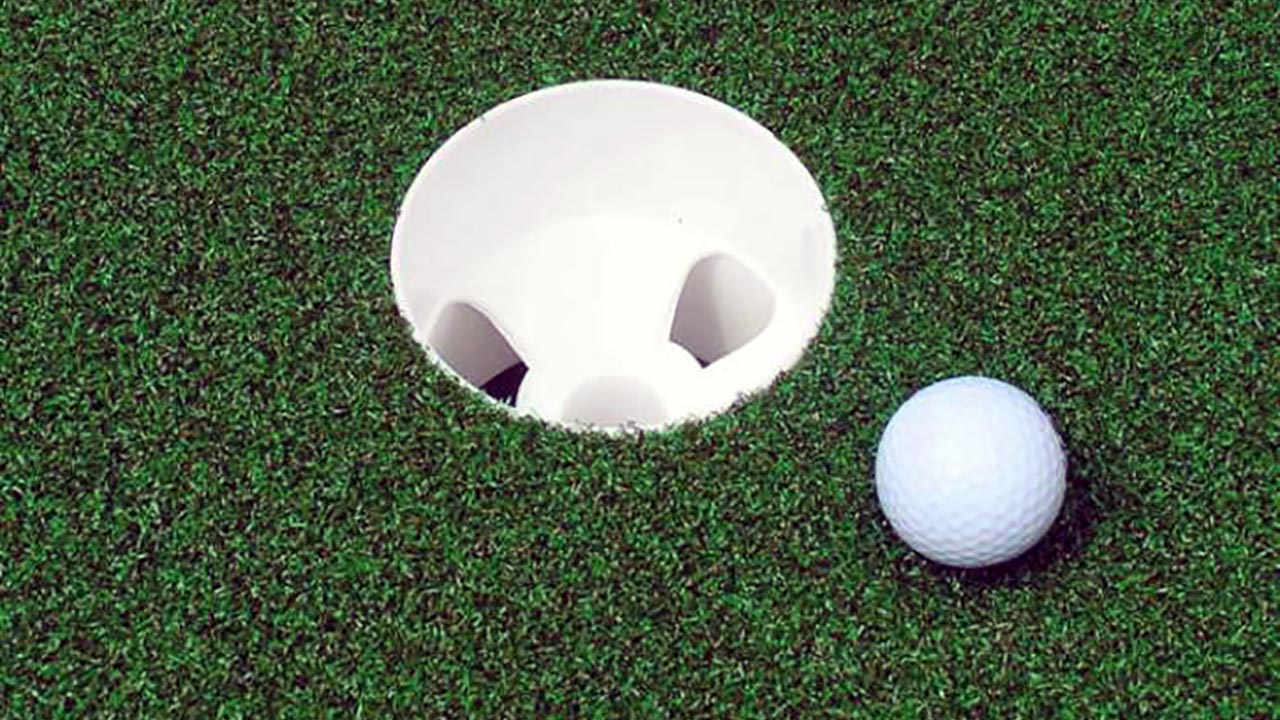 StarBall Golf Cups
For indoor or patio use, use our patented StarBall golf cups that stop the ball perfectly so you see if your shot was left, right, or dead center. StarBall eliminates the need for a deep cup, so you easily lay your green flat on your rec room floor or patio, unlike other practice greens that have unrealistic, cumbersome and costly ramps, platforms or thick foam to facilitate a hole. Watch this video to see how it works!
Further down this page are Outdoor and Indoor Installation Instructions.
Your Portable Putting Green
Add our optional rolling travel case and take your putting green anywhere!
Outdoor Installation
You can quickly install outdoors on a patio or pool deck following the indoor instructions below. Choose a location where rain drains away from the green.
For greens installed in your yard, choose our In Ground Putting Cups when ordering the green.
For detailed do-it-yourself outdoor installation with photos see Backyard Putting Green Installation
Outdoor Installation Summary: Roll out the green where you plan to install it. Use a level to check the slope, which should not exceed 2" rise over a 10 foot run for realistic golf practice. Level the area if needed. Outline the edge of the green into the grass/soil with an flat shovel or weed eater. Roll up and remove the green. Cut any existing grass with a weed eater to the soil. Remove debris. Add 2" of 3/8" minus gravel screenings, meaning your gravel supplier has passed gravel through a 3/8" screen so only the smallest pieces pass through. This mix has small particles as well as gravel up to 3/8" and every size in between. You'll need about 12 pounds of gravel per square foot. Do not use pea gravel or sand.  Drag a 3-foot 2x4 across the gravel to level it where needed. Make a gentle crown in the center of your green and taper to the edges so rain drains to the sides. Create contours and breaks as desired. Compact the gravel base with a water-filled roller or plate compactor rented from your home store. Use a hand tamper for small areas. Roll out the green and check your contours, adjust as desired. Our factory-cut greens have 5 holes partially pre-cut and held in with tabs. You can remove any or all, or cut your own holes anywhere (use a putting cup as a stencil and cut with a razor knife with a new blade). To install the cups put the green in place, and remove the gravel (onto a piece of cardboard or bucket) so each cup is 1/4" below the green surface. After all cups are set, roll up the green and compact gravel around the holes. If you bought the optional border for the green, install the same way, securing it underneath to the green with the seam tape we include when you buy our kit including a green, border, and seam tape. The seam tape doesn't have adhesive and is used in combination with adhesive you buy separately from your local home improvement warehouse: Liquid Nails Heavy Duty Construction Adhesive FUZE. You'll need about one standard tube for 10' to 20' linear feet of seam tape. For detailed do-it-yourself outdoor installation with photos see our installation instructions.
Indoor or Patio Installation
For indoor or patio greens choose our StarBall Putting Cups when ordering the green.
Indoor Installation Summary: Lay your green out with the backing side up. Our factory-cut greens have 5 holes partially pre-cut and held in with tabs. You can remove any or all with a razor knife with a new blade. Roll the green out and start putting! Please read our Indoor Installation Instructions for our pre-cut greens to see photo tips for how to tune your StarBall cups, how to create contours and breaks with sandbags or cardboard, how to roll up and store your green, and clean it.
Questions? Call Dan Selton at 404-295-0601 for sales advice or installation help.
Specifications for StarPro's Master Putting Turf (MPT)
100% MADE IN THE USA by the world's largest artificial turf manufacturer so you get the quality, durability and warranty of the biggest brands.
FACTORY WARRANTY – 10 years outdoors, lifetime warranty indoors.
EXTREME DURABILITY – StarPro's Master Putting Turf (MPT) is made with a high density UV stabilized nylon face and natural rubber. The four layer backing keeps the turf flat, supple and allows it to bridge subsurface irregularities for easy installation and a smooth true golf ball roll.
MATERIALS – 42 oz. nylon face weight and 95 oz. gross weight per square yard. The 3/4″ twisted UV stabilized nylon filaments in the turf are heat set and sheared smooth to .56″ atop a 4-layer backing consisting of a nylon scrim layer, a natural rubber precoat, a heavy action back mesh layer, and a 2 mm natural rubber base coating embossed with a hex non skid pattern.
ECO-FRIENDLY – Our turfs surpass Federal and CA Proposition 65 Standards, and our factories qualify for multiple "Green" initiatives.
RELIABILITY – We have been in business since 2006 making DIY golf greens and synthetic turf that look natural, healthy, well watered, weeded, and freshly mowed 24/7/365.
Add value to your home, improve your game, lower your score and enjoy years of fun for family and friends on the most realistic and challenging putting greens in the world. With the best turf made, multiple target holes, and easy installation, StarPro Greens delivers a lifetime of fun and putting practice that is as real as it gets.